Phosphros Bronze Rods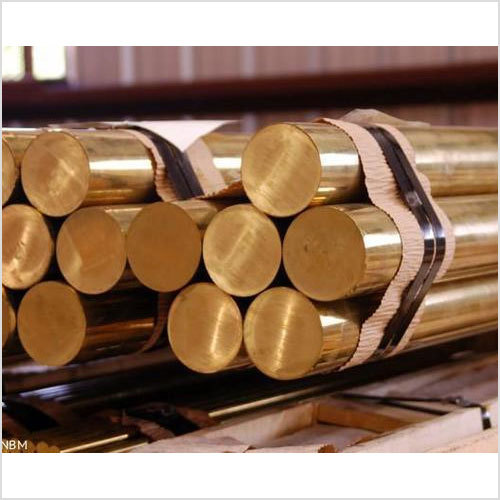 Phosphros Bronze Rods
Product Description
Bronze Family: Phosphor Bronze
Bronze Rods offered by us are demanded for the sectors of aviation, heavy engineering, electrical and defense. Resistant to defect and damages, the rods are the deoxidant products that can be also used in some applications to improve the fluidity as well as cast ability of the materials. Bronze Rods, manufactured, supplied and exported by Metal Alloys Corporation boast of optimum corrosion resistance as well as good wear resistance. The electrical and thermal conductivity of the rods make these applicable for spring and plating.

C 510 Phosphor Bronze Grade A is a METALCO standard alloy and finds use in electrical applications, as well as fasteners and industrial applications. Uses include various electrical connectors, fasteners, cotter pins and lock washers, sleeve bushings, welding rod, springs, perforated sheets and clutch disks.
Specification :

Phosphors Bronze

ASTM B103 C 51000

SAE J 463 C 51000

BS 2874 PB 102
Equivalent Specifications*
Reference Specifications*
SAE J461

SAE J463

AMS 4625
Equivalent specifications are verified and updated annually.
Specifications shown are current as of May 4, 2010.
Chemical Composition (%)

Cu

Sn

P

Fe

Pb

Zn

Remainder

4.2 5.8

0.03 0.35

0.10 max.

0.05 max

0.30 max

Sum of all named elements = 99.5%
Mechanical Properties
Minimum Tensile Properties, English/Metric

Temper HO4 hard

Nominal Diameter

Tensile Strength

Elongation**




Inches/mm

ksi

MPa

%




" " incl./6 - 12 mm. incl.

70

485

13




Over " to 1" incl./12-25 mm incl.

60

415

15




Over 1.00"/25 mm

55

380

18



**Elongation in 4D
Chemical Composition and Mechanical Properties shown pertain to ASTM B139/B139 M only.

Machinability Rating 20 (Free Cutting Brass = 100)
Physical Properties




English

Metric

Melting Point Liquidus

1920 F

1049 C

Melting Point Solidus

1750 F

954 C

Density

0.320 lb/in3 at 68 F

8.86 gm/cm3 @ 20 C

Specific Gravity

8.860

8.86

Electrical Resistivity (Annealed)

69.10 ohms-cmil/ft @ 68 F

11.49 microhm-cm @ 20 C

Electrical Conductivity (Annealed)

15%IACS @ 68 F

0.088 MegaSiemens/cm @ 20 C

Thermal Conductivity

40 Btu ft/(hr ft2F) @ 68 F

69.2 W/mK @20 C

Coefficient of Thermal Expansion

9.90 10-6 per F (68-572 F)

17.8 10-6 per C (20-300 C)

Specific Heat Capacity

0.090 Btu/lb/F @ 68 F

377.1 J/kg K @293 K

Modulus of Elasticity in Tension

16,000 ksi

110,000 MPa
Physical Properties provided by CDA
Fabrication Practices

Soldering

Excellent

Capacity for Being Cold Worked

Excellent

Brazing

Good

Capacity for Being Hot Formed

Poor

Oxyacetylene Welding

Fair




Gas Shielded Arc Welding

Good

Annealing Temperature Minimum

900 F or 483 C

Coated Metal Arc Welding

Fair

Annealing Temperature Maximum

1250 F or 677 C

Resistance Welding Spot

Good




Resistance Welding Seam

Fair

Resistance Welding Butt

Excellent
Contact Us
Regd. Office & Plant: Plot-6 & 7 Village-Lakhabaval, Post Khodiyar Colony, Jamnagar, Gujarat, 361006, India
Phone :2889251