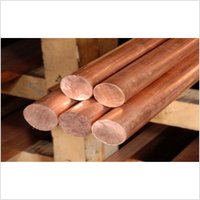 Copper Alloy Rods
Product Description
Counted among prominent manufacturer and supplier, we bring forth the wide range of Bronze Rods that are manufactured by using high grade bronze in strict compliance with the set industry guidelines. These rods find their wide usage in various applications like electrical, hardware, industrial as well as in fasteners applications. In order to fulfill the diverse requirements of our clients, we offer these Bronze Rods in different specifications and can be customized as per their requirements.
Features
Accurate dimensions
Robust construction
Resistant to corrosion
Bronze Rods
C 314 Commercial Bronze
Bronze Family: Leaded Commercial Bronze
C 314 Commercial Bronze is a METALCO standard alloy and finds use in hardware applications, electrical applications, as well as fasteners and industrial applications. Uses include various electrical connectors, screws and nuts, pickling crates, fixtures and racks. It is also common in screw machine applications.

Technical specifications:
Specification :
Leaded Commercial Bronze
ASTM B 140 C31400
Equivalent Specifications
ASTM B140
B140M (Copper Alloy UNS No. 31400)
Reference Specifications

Mil-V-18436

Equivalent specifications are verified and updated annually.
Specifications shown are current as of May 4, 2010.


Chemical Composition (%)
Cu
Pb
Fe
Ni
Zn
87.5 to 90.5
1.3 to 2.5
0.10 max.
0.7 max.
Remainder
Sum of all named elements = 99.6%
Mechanical Properties
Minimum Tensile Properties, English/Metric
Temper HO2 half hard
Nominal Diameter
Tensile Strength
Yield Strength
Elongation
Inches/mm
ksi
MPa
ksi
MPa
%
½" and under/ 12 mm
50
345
30
205
7
Over ½ to 1"/12-25 mm incl
45
310
27
185
10
Over 1.00"/25 mm
40
275
25
170
12
Temper HO4 hard
Nominal Diameter
Tensile Strength
Yield Strength
Elongation
Inches/mm
ksi
MPa
ksi
MPa
%
2" and under/50 mm
53
365
40
275
6
Machinability Rating 80 (Free Cutting Brass = 100)

Physical Properties

English

Metric

Melting Point Liquiedus

1900'° F

1038'° C

Melting Point Solidus

1850'° F

1010'° C

Density

0.319 lb/in3 at 68'° F

8.83 gm/cm3 @ 20'° C

Specific Gravity

8.830

8.83

Electrical Resistivity (Annealed)

24.70 ohms-cmil/ft @ 68'° F

4.11 microhm-cm @ 20'° C

Electrical Conductivity (Annealed)

42%IACS @ 68'° F

0.246 MegaSiemens/cm @ 20'° C

Thermal Conductivity

104 Btu ' ft/(hr 'ft2'°F) @ 68'° F

180.0 W/m'°K @20'° C

Coefficient of Thermal Expansion

10.2 ' 10-6 per '°F (68-572'° F)

18.4 '10-6 per '°C (20-300'° C)

Specific Heat Capacity

0.090 Btu/lb/'°F @ 68'° F

377.1 J/kg '°K @293'° K

Modulus of Elasticity in Tension

17,000 ksi

117,000 MPa
Physical Properties provided by CDA

Fabrication Practices
Soldering
Excellent
Capacity for Being Cold Worked
Good
Brazing
Good
Capacity for Being Hot Formed
Poor
Oxyacetylene Welding
Not Recommended
Gas Shielded Arc Welding
Not Recommended
Annealing Temperature Minimum
800° F or 427° C
Coated Metal Arc Welding
Not Recommended
Annealing Temperature Maximum
1200° F or 649° C
Resistance Welding Spot
Not Recommended
Resistance Welding Seam
Not Recommended
Resistance Welding Butt
Fair
Contact Us
Plot No.6 & 7 of Survey No.232,233,236 and Survey No.237, Lakhabaval Village,, Jamnagar, Gujarat, 361006, India
Phone :+918068214041